APART33 in Haus im Ennstal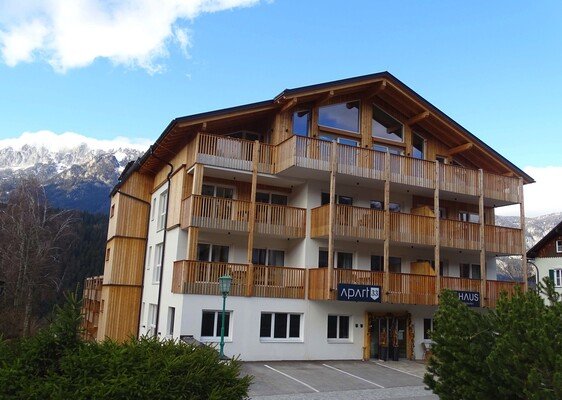 Investment project
Location: Marktstraße 29, 8967 Haus
Residential units: 33 (1 still available)
Living space: 48.6 m2 - 146 m2
Highlight: A sauna in every apartment
Purchase price: from € 191,000
Construction start: April 2018
Completion: June 2019
Location: This property is located in Markstrasse 29, Haus 8967 and thus in the middle of the Schladming-Dachstein region. Haus im Ennstal, since 2014 officially the most beautiful village in Europe, is one of the most stunning places in the Alpine region. Here, natural landscapes, Styrian hospitality and tourist infrastructure complement one another. In the immediate vicinity are, among other things, a number of shopping facilities, restaurants, a golf course and the Hauser Kaibling, which gets top marks in winter on account of its terrific ski slopes and in summer due to its many hiking trails.
Features: The complex consists of two units, the main house and the annex. The properties, comprising 33 apartments, have been fitted out using natural materials from local companies. The modern furnishings, including some native wooden features, have created a cosy atmosphere. Each apartment has its own sauna, where you can enjoy relaxing moments after a wild day's skiing. In the main house, you'll find our own café CAFÉ ZU.HAUS, where guests as well as visitors can enjoy breakfast or an afternoon snack.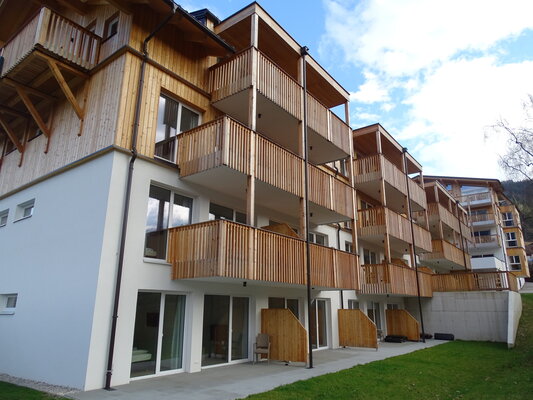 Building design: The construction was mainly carried out by local companies, which was very important to us because this way the added value remains in our region. In the architecture, special attention was paid to a combination of alpine architectural style and as open and bright rooms as possible. The lower part of the complex is made of solid brick and the roof truss from wooden beams. Our solid construction methods save on costs in the long term and thus helps maintain a property's value. Heating is sustainable and environmentally friendly using district heating. The energy-saving underfloor heating in all rooms ensures a pleasant room climate. You can find more information in our Construction and Fittings Specifications.
Operating concept: Owning your own property in the Alpine region and having a secure investment as well – APART33 makes it possible. On the one hand, apartment owners have the chance to spend their holidays in their own home in one of our most beautiful regions and to earn money in their absence on the other. For four weeks of the year, buyers can enjoy their apartments themselves and during the remaining time they are rented out to tourists by the operating company Apart4You. This turns the owners into entrepreneurs, which of course also brings them some tax advantages. You can find more information in our operating concept. (Use as a second home is not possible!)
BUY an apartment:
There is only one apartment still available. Further information on purchasing can be found here:
BOOK an apartment:
You can enjoy your holiday in one of the 33 modern apartments:
Café:
Discover our in-house café:
Film of our opening event