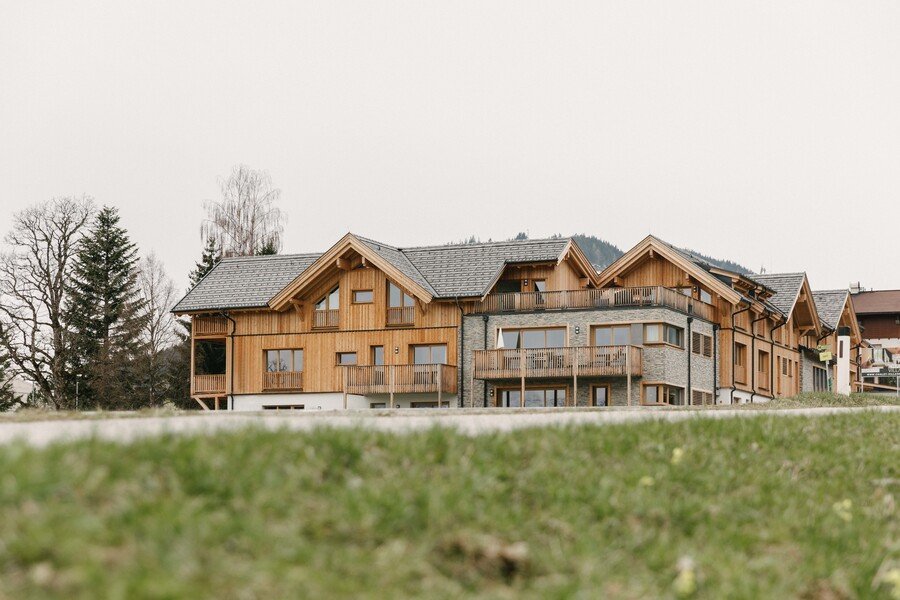 Investment project
Location: Ramsau 400, 8972 Ramsau
Residential units: 18 (all already sold)
Living space: 49.3 m2 – 110.6 m2
Highlight: A sauna in every apartment
Construction start: April 2019
Completion: July 2020
Location: There's a very special place on earth at the heart of Austria – the holiday region of Ramsau. Here, natural landscapes, Styrian hospitality and tourist infrastructure complement one another. The region of Ramsau in particular offers a safe, pleasant and moderate climate – for the future as well. You can enjoy the beautiful mountain panorama in all four directions, with sunshine all day long. In the warm summer and autumn months, Ramsau offers a wide range of activities. Whether sportspeople, families or those who love their peace and quiet – there's something for everyone. Whether cross-country skiing, skiing on the Dachstein, festive events at the chalets, curling, ice-skating or tobogganing – the Ramsau offers a wide range of activities in winter as well. The 130 km of classic cross-country trails and the 70 km of skating/sports trails are an invitation to have some very special fun in the snow at the foot of the Dachstein.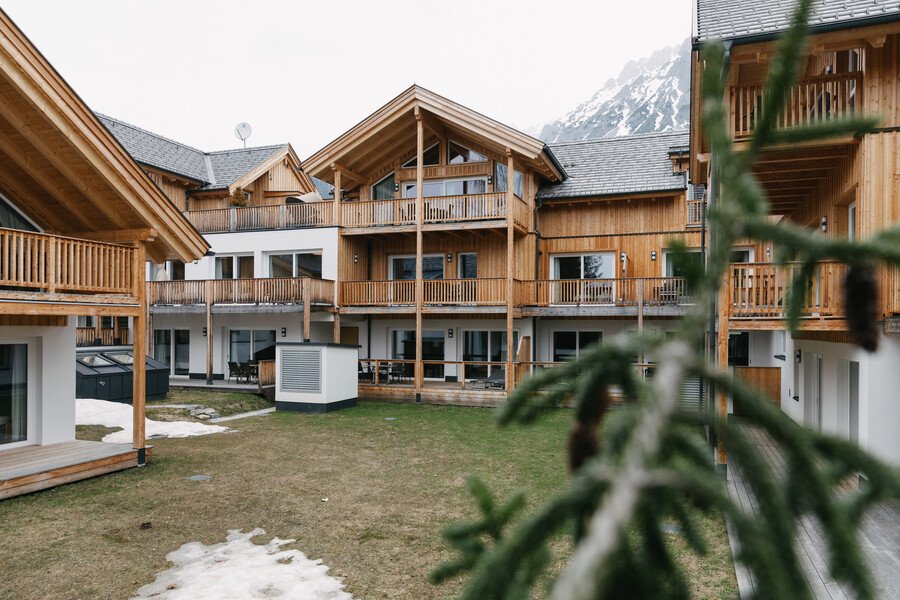 Features: The complex consists of two houses, the main house and the annex. There are 18 exclusive apartments in chalet/loft style with a living area between 49.3 m2 and 110.6 m2. Each apartment has a sauna where you can relax after a wild day of skiing. Two lifts ensure optimal transport to the houses. Lean back and enjoy the combination of traditional and modern furnishings at the highest level.
Building design: In their architecture, special attention was paid to the combination of an alpine architectural style and as open and bright rooms as possible. An environmental and sustainable timber construction method combined with a pleasant and energy-saving underfloor heating system ensures an ideal indoor climate and a feel-good atmosphere. Our solid construction methods save on costs in the long term and thus helps maintain a property's value. You can find more information about the building design and fittings in our Construction and Fittings Specifications.
Operating concept: Owning your own property in the Alpine region and having a secure investment as well – CHALET VILLAGE Ramsau makes it possible. On the one hand, apartment owners have the chance to spend their holidays in their own home in one of our most beautiful regions and to earn money in their absence on the other. For four weeks of the year, buyers can enjoy their apartments themselves and during the remaining time they are rented out to tourists by the operating company Apart4You. This turns the owners into entrepreneurs, which of course also brings them some tax advantages. You can find more information in our operating concept.
A second home use is neither possible at the time of purchase nor in the future!
BUY an apartment:
All apartments are already SOLD!
BOOK an apartment:
You can enjoy your holiday in one of the 18 modern apartments:
Film of our opening event
Opening ceremony in July 2020
Construction progress in May 2020
Construction progress in March 2020
Construction progress August 2019