Residential project in Bürmoos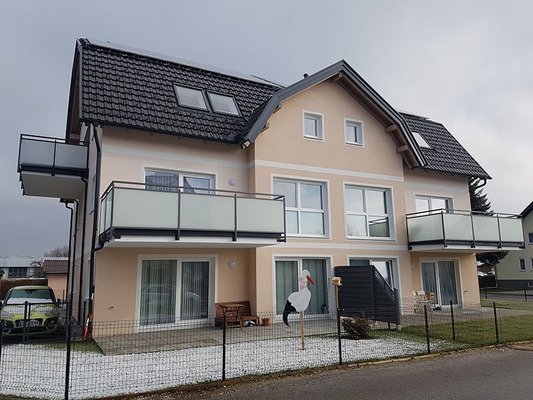 ​​​​​​Owner-occupied apartments
Location: Ignaz Glaserstraße 64, 5111 Bürmoos
Residential units: 6 (all already sold)
Living space: 50 m2 - 86 m2
Purchase price: from € 279,774
Construction start: July 2016
Completion: May 2017
Location: This residential building is located in Ignaz Glaserstrasse 64, Bürmoos 5111 and thus in a prime central location. The house is ideally suited to families as a kindergarten, a toddler group, primary and secondary school, as well as various shopping options are in the immediate vicinity. The family-friendly town centre, where the property is located, is surrounded by an idyllic green area and several detached houses. Public transport connections are directly next to the house. For somewhat further distances, there is the option of using the local train, which is only about five minutes away on foot. In addition to the excellent infrastructure in Bürmoos, there is a wide range of leisure activities on offer. Appreciated by bathers in summer and ice skaters in winter, these picturesque surroundings are also a true leisure paradise for hikers and cyclists. Nature lovers enjoy sailing on the Trummer Lakes or going mountain biking on the Haunsberg.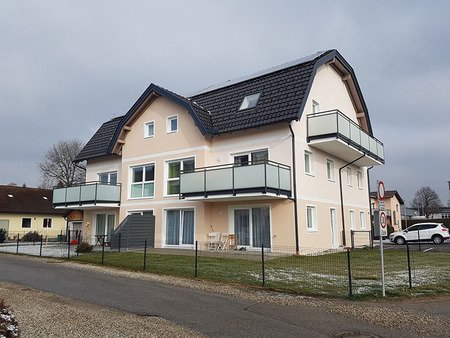 Features: The property consists of a total of six high-quality, first-time-occupancy apartments, two garden apartments of approx. 86 m2 and four further apartments of 60 m2 and 50 m2. All freehold apartments are modernly furnished and fitted out using high-quality materials from the region. You can find more detailed information in our Construction and Fittings Specifications.
Building design: In all our projects, customer satisfaction and high quality are the most important things for us, therefore we use the best materials as well as precise workmanship as a matter of course. Our solid construction methods also save on costs in the long term and thus helps maintain a property's value. Affordable and environmentally conscious construction is of great importance to us, thus the complex was built using natural wooden beams and is equipped with a photovoltaic system. This heating method is one of the most efficient ways of heating living spaces and ensures low operating costs. Room heating using an energy-saving underfloor heating system is a matter of course.
All six flats are already SOLD!