Residential project "in the centre of Irdning"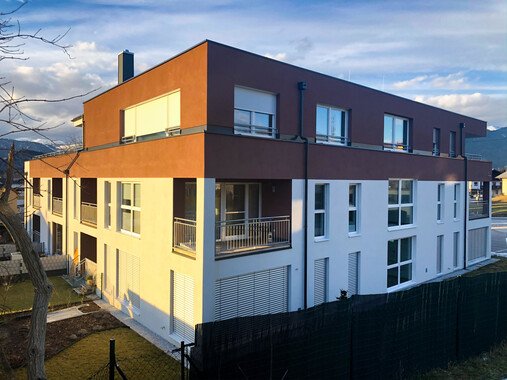 Owner-occupied apartments
Location: Trautenfelserstraße 84, 8952 Irdning
Residential units: 12 (all already sold)
Living space: 56 m2 - 111 m2
Highlight: Penthousewohnung with large roof terrace
Purchase price: from € 165,081
Construction start: March 2018
Completion: March 2019
Location: This housing project was built in Falkenburg, Trautenfelserstrasse 84, Irdning 8952 and thus in a prime central location. Stylish Irdning is located in the north-west of Styria and in the centre of the Liezen district. Next door you will find a number of shopping facilities, restaurants and a nice café where you can enjoy coffee and cake in the evening sun. The Riesner and Planeralm, which are only a few minutes' drive from Irdning, get top marks with their many hiking trails in summer and well-prepared ski slopes in winter. Those looking for a refreshing cool-down in the hot summer months can get it at nearby Lake Putterer in Aigen.
Features: This property consists of a total of ten high-quality, first-time-occupancy apartments between 56 and 98 m² and two penthouse apartments with a living space of approx. 111 m². You can enjoy a breathtaking view of the Grimming from each apartment. Each apartment has a large balcony or a spacious garden. The living rooms have elegant parquet floors.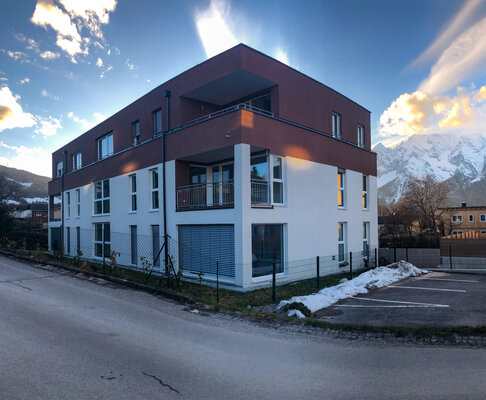 Building design: In all our projects, customer satisfaction and high quality are the most important things for us, therefore we use the best materials as well as precise workmanship as a matter of course. Special care has been taken to use regional materials installed by local companies. This ensures on the one hand that the economy in the region is strengthened and on the other that long transport routes are avoided and a conscious use of scarce resources encouraged. Heating is sustainable and environmentally friendly using district heating. Room heating using energy-saving underfloor heating is a matter of course. You can find more detailed information in our Construction and Fittings Specifications.
All twelve flats are already SOLD!